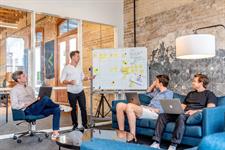 Charities said: Now is the 'perfect time' to pressure businesses to take social action
Charities should seize the "perfect moment" and start challenging big business to solve social problems, think tank and consultancy New Philanthropy Capital said.
In a briefing held with PricewaterhouseCoopers and Share Action, NPC said it was time to put the "S" in ESG.
Environment, social and governance are the models companies use to integrate positive impacts into what they do.
But NPC said that while ESP strategies have generally focused on environmental concerns, and the UK corporate governance code has led to governance efforts, there has been "much less attention given to the component social". And this despite "the urgent needs caused by the pandemic and the cost of living crisis".
The briefing states: "The pandemic has begun to shift attention to the social aspects of ESG, and the cost of living crisis will only intensify this focus.
"Now is the perfect time for the charitable sector to challenge the investment and business community on issues ranging from labor practices to human rights."
He adds: "Currently, 76% of the world's largest asset managers have a commitment to human rights in their policy documents, but only 4% have a dedicated policy to address it. This illustrates the challenge facing civil society.
The ESG said common examples of 'pushback' from companies included: the range of issues covered by 'S'; the perception that the social impact of companies is less profitable financially; and data and measurement challenges, making it hard to know where to start.
The briefing goes on to urge charities to avoid the corporate social responsibility side of a business and go for the CFO instead.
The think tank continued: "Social change is at the heart of charities' mission and what they excel at, and it gives them the opportunity to be ESG leaders."
Leah Davis, Head of Policy and External Affairs at NPC, said: "Social change is at the heart of charities' mission, providing them with unique insights into the 'social' aspects of ESG, but they must act. together to create real change.
The NPC briefing tells charities to "make sure their own performance measures up first", paying the living wage and focusing on equality, diversity and inclusion.
Catherine Howarth, managing director of Share Action, said: "A common complaint from investors is that there is little data on social issues.
"Charities are in an ideal position to tackle this problem head-on, by sharing the breadth of evidence the sector has gathered on measuring the impact of social interventions. »