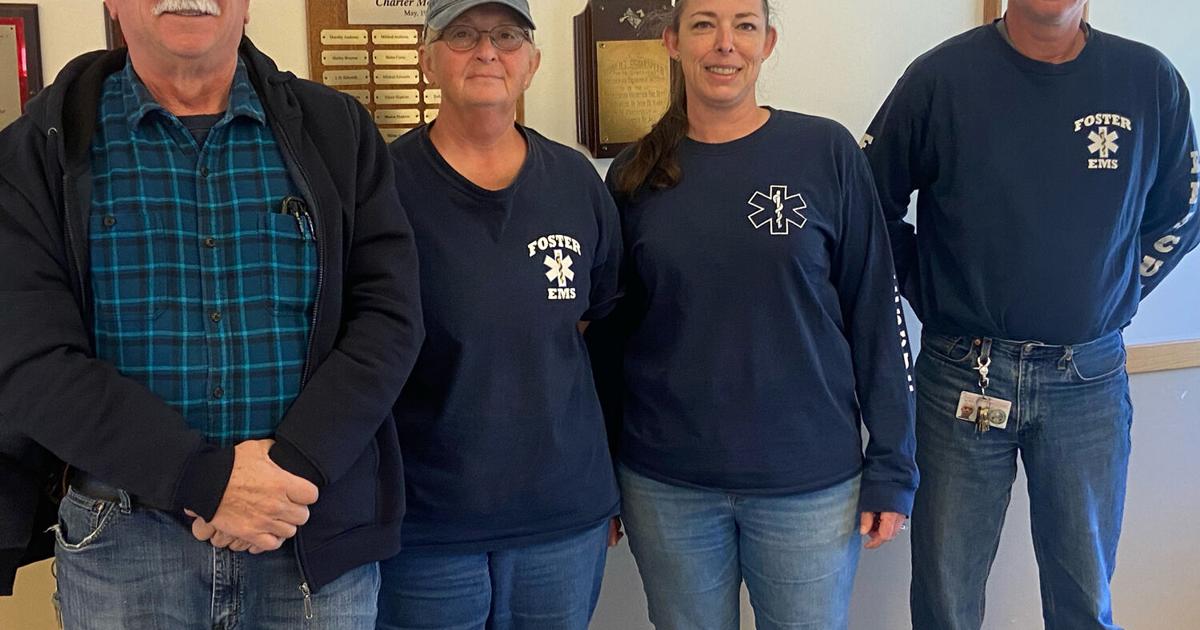 Foster Ambulance Corps to close by July 1 without additional funding | News
FOSTER — The Foster Ambulance Corps needs an extra $440,000 injected into its budget or it will close on July 1 or sooner, Commander Ginny Colwell said.
Colwell said residents of Foster need to understand the danger facing the FAC, a 501(c)(3) nonprofit organization. She said the CAF and the city are working closely together to find solutions to the problem. The FAC strongly opposes the outsourcing of ambulance services, envisaged by the Town Hall. So far, Colwell said, Foster's estimates for the private ambulance service are about $620,500 less than the FAC needs.
In previous years, the budget of $320,000 was sufficient. Now, having to pay two emergency medical services employees for 24/7 coverage, the CAF needs an annual budget of $770,500, the CAF's Jon Vorro said.
Foster City Council provided an additional $100,000 to the FAC budget this year to keep the service open through July, on top of the city's $180,000 FAC allocation. Colwell said the CAF was bringing in an additional $150,000 in third-party billings.
For the past 51 years, the AFC has been solvent and run primarily by volunteers. She bought her trucks and equipment with money paid by insurance companies for rescue services, at no cost to ratepayers or additional city funds.
Colwell said it was important to make Foster residents understand how FAC went from a thriving department to one in dire need of funding. She and her staff members said it was due to a combined effect that the FCC had previously warned the council would occur.
First, Colwell said, the Affordable Care Act dramatically reduced insurance reimbursements paid to the FCC. Later, a change in insurance policies further reduced reimbursements. Colwell said reimbursement rates have fallen to less than 18% of total charges.
"What we charge is not what we get," she said.
The FCC also doesn't want to charge elderly residents payments on what the insurance covers.
"They already pay taxes, they shouldn't have to pay more," Colwell said.
The bottom line, Colwell said, is that the city needs to make up the shortfall.
"If an acceptable solution is not found, the Foster Ambulance Corps will not be able to operate. The residents of Foster will then rely on the mutual aid of the surrounding towns, depending on their availability, which will increase the response time and will delay medical attention," Colwell said.
Foster and other nearby towns often rely on mutual aid when ambulance units are already on another call when a second call comes in.
Then, like many other rural towns, Colwell said COVID has affected volunteer rates at CAF. Some were afraid of interacting with COVID-19 patients, others feared contracting the virus themselves, while others felt the burden of volunteer work in addition to working to pay the bills.
"COVID was a huge challenge for the heart," she said.
Colwell said public safety entities across the country, especially in rural communities, find it necessary to operate with paid emergency medical services employees 24 hours a day, 7 days a week.
According to Colwell, some volunteers were working five or six shifts a week, which was too much and impossible to sustain, she said.
She said the CAF is also struggling to find quality hires. She said even increasing the hourly rate did little to attract EMS-certified professionals.
"It's a huge commitment with huge amounts of training," Colwell said.
Finding volunteers to fill shifts is not possible, Colwell said.
Volunteer Melanie Wedoff, CAF vice president, said she could no longer afford to volunteer. Her certification, which must be renewed every two years, is soon to expire and she has neither the time nor the financial commitment to invest in a volunteer position.
Wedoff is in nursing school and doesn't have time for extensive training, let alone the hours needed for volunteers.
"I have to focus on my career now, unfortunately I can't volunteer. It was not an easy decision," Wedoff said.
With the cost of living rising, Wedoff said any extra shifts she takes had to be paid for, whether at the CAF or elsewhere.
The problem is that Foster is already facing a 4% tax increase due to his increased share of the Foster-Glocester Regional School District budget.
Vorro said allowing a private company to use the FAC building would maintain an expensive liability with the city.
Colwell suggested using money from the American Rescue Plan Act to supplement the budget until a more permanent solution can be created. She said she was getting mixed messages from city council and city hall about whether the federal ARPA fund could be used to fund the ACF budget.
As it stands, the FAC is considering asking the city to move to a fire tax situation for the FAC, which would tax residents directly for ambulance service rather than going through the city for a budget. Its implementation would require voter approval and would be put to the November ballot.
Colwell said a fire and ambulance tax is typical and would be sent as a separate tax bill from the city. The FAC would set its budget for voter approval and send out its own tax bills.
"It's not an additional tax. It is a percentage of the tax that goes to the municipality that will be diverted to the ambulance corps, "she said.