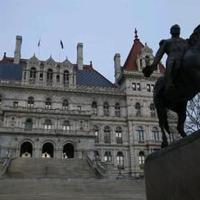 Paychecks for some state employees could be the first victim of a late budget in Albany | State-and-Regional
When the governor and state legislators fail to pass a budget by April 1 as planned, the first tangible effect is one that would hit many state employees in their portfolios.
If there is no approved state budget by 4 p.m. Monday, the state comptroller's office has warned that paychecks could be late, said John Kaehny, executive director of the watchdog group Reinvent Albany.
But that's not for all workers in the state — workers at the State University of New York and the State Insurance Fund, which operate on a different fiscal year, would not be affected, according to a note from March 18 issued by the Office of State Comptroller Thomas DiNapoli.
A budget extension bill, if passed by the state Legislature and signed by Governor Kathy Hochul, would provide the funds needed to pay employees, according to the Comptroller's Office.
The state's new fiscal year kicked off on Friday. Hochul's proposed $216 billion spending plan for 2022-23 is his first as governor.
Many of his predecessor Governor Andrew M. Cuomo's budgets were behind schedule, but not dramatically.
The next time a late budget would have a practical effect would be two weeks later, for the next pay cycle, Kaehny said.