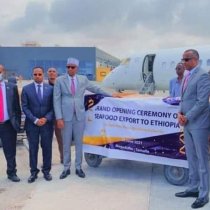 Somalia-Ethiopia trade agreement
MOGADISHU (HORN OBSERVER) – Somalia and Ethiopia signed a bilateral trade agreement today, paving the way for entrepreneurs from both countries to strengthen their business activities.
According to the agreement signed by Somali Minister of Fisheries and Marine Resources Abdillahi Bidhan and Ethiopian Ambassador Abdifatah Abdullahi will allow the Horn of Africa nation to export fish to its neighboring landlocked country.
Minister Bidhan said the deal would help Somalia export cash crops to neighboring countries.
"This process is just the start. Many people may have heard of Kenyan khat, why was it banned? Khat in Kenya was banned and the Kenyan government refused to allow us to export our products to their country. things, "Minister Bidhan said.
The first shipment of 5,000 tonnes of fish from Somalia was sent to Ethiopia.
Somalia banned the product in Kenya last year to curb the spread of the coronavirus and negotiate with Kenya on trade based on a win-win situation.
Somalia has asked Kenya to meet five conditions for it to be allowed to send khat to Somalia.
Somalia has asked Kenya to allow entry of goods from Somalia.
Before the ban, Kenya exported up to 50 tonnes of khat worth $ 2.5 million per day to Somalia.