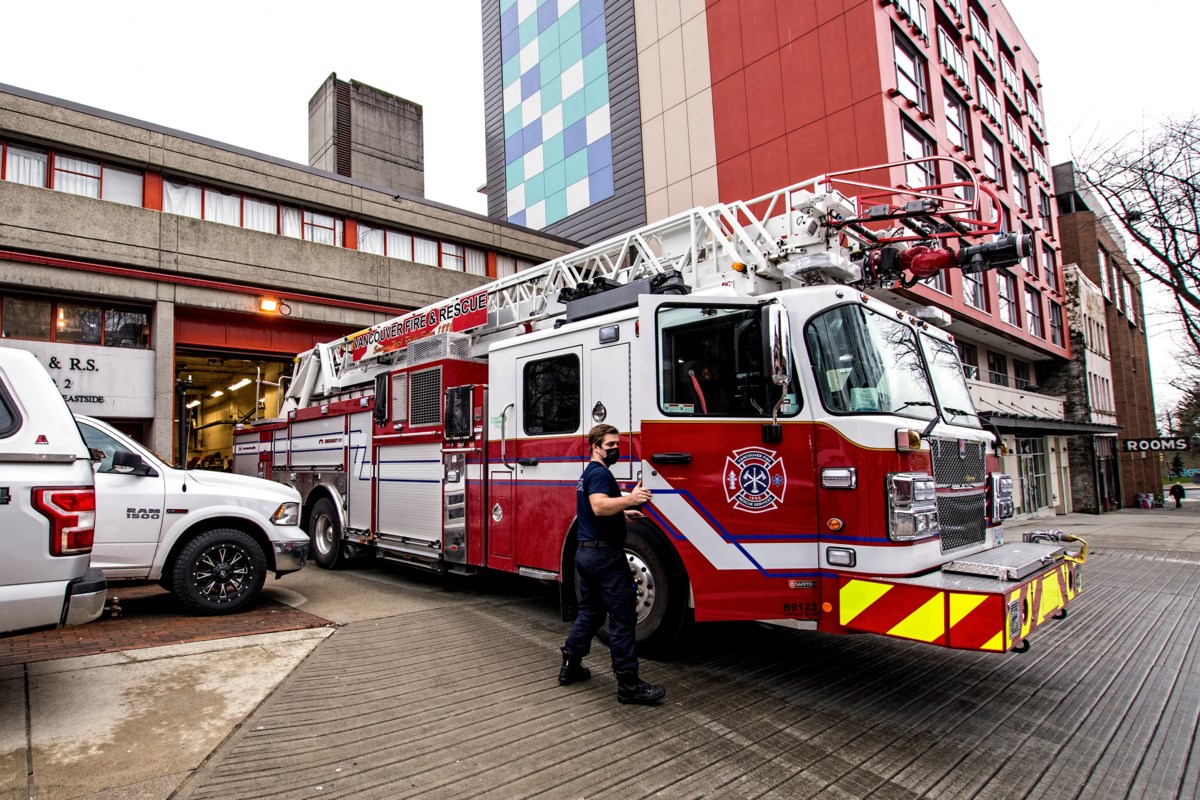 Vancouver spends $24 million a year on 911. Is it worth it?
E-Comm President: 'Ultimately the answer for me – unless the calls keep coming – is that we need more people'
The City of Vancouver will pay $24 million this year to the E-Comm 911 call center to provide dispatch services to police and fire departments.
Last year, the total tab was $22.3 million.
In 2020, it was $22 million.
The city also contributes to a regional fund through the Metro Vancouver agency that pays for the answering portion of 911 ambulance calls, which are transferred to BC Emergency Health Services.
The regional fund totaled $4.2 million in 2020.
Over the past month, the question of whether the city is getting value for money for its investment has come up at a meeting of the Vancouver Police Board and at City Hall, where the board is. Sarah Kirby-Yung successfully moved a motion for city staff to assess "the E-Comm situation."
The situation, as Kirby-Yung explained in his motion, involves an understaffed agency unable to handle call volumes — especially non-emergency calls — to the satisfaction of the public, the service's largest union. and even the president of E-Comm, Oliver Gruter. -Andre.
These factors, coupled with the city's police and fire departments, as well as the Department of Health-funded ambulance service claiming they are also understaffed, have placed unprecedented pressure on public health and safety in Vancouver.
"There hasn't been a clear or transparent discussion around this service and the value we get from it," Kirby-Yung said by phone this week. "So I think it's really important for the board to be informed about our whole public safety ecosystem."
Added Kirby-Yung. "We spend time discussing the Vancouver Fire Services budget, we spend time discussing the VPD budget. There has been little to no dialogue regarding E-Comm. »
'Save my displeasure'
The discussion of E-Comm's value to Vancouver has been amplified and exposed by the pandemic, the current overdose death crisis, and tragedy fueled by climate change, including last summer's heat dome.
In one case, Vancouver firefighters say they waited 11 hours for an ambulance crew to arrive and transport an elderly person suffering from heat exhaustion to hospital. The BC Coroners Service reported 99 heat-related deaths in Vancouver between June 25 and July 1.
Police Board Member Frank Chong, who backed the VPD's call for more officers and participated in discussions about residents' annoyance when trying to report a crime, expressed concerns about E-Comm during of a public meeting last month.
"I would like to publicly express my displeasure today with E-Comm, and hopefully we can have further conversations behind closed doors regarding what is going on, and discuss more about how the VPD can s 'engage with E-Comm at this point," said Chong, whose remarks were followed by a response from Police Chief Adam Palmer.
"Thank you for your feedback," Palmer said. "They are well oriented and we have the same concerns with E-Comm."
Palmer said one of his deputy chiefs, Howard Chow, is in discussions with E-Comm. At the same time, he added, the VPD's concerns are not unique to Vancouver, with the issue being a topic with the BC Association of Chiefs of Police.
Long wait times on the non-emergency line
Chong's comments came after the police commission discussed a case where a citizen complained he waited two hours on a non-emergency line to report that a man had started a fire on a sidewalk near of Broadway and Collingwood.
He was never put in touch with an operator.
The next day, the citizen, whose name was redacted in his written complaint, made a second attempt to report the incident and got the same disappointing result.
The incident happened on September 7, 2021 when the citizen said he approached the man to start the fire. The man then pointed a "hand torch" at the citizen's face before throwing himself on him. The citizen pushed him away and left the premises.
The citizen did not believe the incident warranted a call to 911. He said he tried to report the crime online but discovered that due to the violence it could not be reported .
"I am very concerned that there currently appears to be no effective way for citizens to report non-emergency criminal activity to the city or the SPV," Citizen wrote.
"I recognize that the incident in question was relatively minor, but surely documenting and tracking these low priority incidents must be useful in developing crime prevention strategies and surely citizens should not have to wait for emergency situations from the 911 to report crimes."
The police department's report in response to the citizen's complaint stated that "E-Comm's operational staffing shortages, which affected their ability to achieve their goals," were the reason for the complainant's inability to file a report.
"In this particular incident, it appears that the Complainant unfortunately called at a time when manpower was lower," said the report by Sgt. Mehrban Sidhou.
Waiting for two or more hours
In 2021, the average wait time for non-emergency calls was around six minutes, but callers routinely experienced long delays, often waiting for two hours or more, Sidhu said in his report.
An explanation for these delays can be found in an 11% increase in 911 calls in Vancouver from September 2020 to September 2021. This spike has caused people who take non-emergency calls to be reassigned to handle call volume at the 911.
Vancouver police receive an average of over 600 calls for service each day.
E-Comm prioritizes calls and assigns them to agents based on each call's risk to public safety. Most citizens are unaware that when they contact 911 and the VPD non-emergency line, they are actually reaching E-Comm.
Calls of a medical nature are being transferred to BC Emergency Health Services, which Sidhu said is also experiencing a shortage of operators.
Prior to November 2021, 911 operators had to stay on the line with a caller requiring paramedics.
In November, E-Comm and British Columbia's Emergency Health Services Branch implemented a temporary procedure to transfer medical 911 calls to the BCEHS automated system, freeing up calls to the 911.
This policy change has reduced the time a person waits on the phone when calling 911, according to E-Comm President Oliver Gruter-Andrew. Whether this reduced response times for ambulance dispatchers is a question he referred to BC Emergency Health Services.
"Our average response speed is back to under five seconds," he said. "Historically, it was kind of a one-second average range. We're aiming for under five seconds, and we're coming back under five seconds.
"That's not what we want to see"
It is the wait times for non-emergency calls that consume Gruter-Andrew.
"We're trying to figure out what it takes to fix this because we all recognize that we've been waiting on the phone for an hour with all these delays, and the implications of COVID, and the heated dome stuff – all together – this isn't is not what we want to see," he said, acknowledging criticism about "our ability to respond to non-emergency calls is absolutely valid."
But, he added, the issue of long wait times is one he and his staff have highlighted to police chiefs and departments dating back to 2019. Since then, E-Comm has conducted a review of its services and commissioned PricewaterhouseCoopers to produce a report on the service.
"We are currently in the process of working in detail on what came out of the reports, how to move this forward, how to make it affordable, how to make it usable for the public, for the police, for the fire services and, what is very important, for E-Comm staff," he said, noting the pressure on employees.
"At the end of the day, the answer for me – unless the calls keep coming – is that we need more people."
Asked what he would say to a citizen frustrated by long wait times, he replied:
"I feel bad – it's not how it should be. We are well aware of the problem and the underlying causes. This has been a topic of discussion between us and our funders for several years now. We are working with our funders in partnership to address this issue as it affects everyone.
"Avoid going to the toilet"
Donald Grant, President of Local 8911 of the Canadian Union of Public Employees, represents approximately 550 operators, 911 operators and dispatchers connected to 33 police departments and 40 fire departments.
Grant spoke to the board last month about his concerns over E-Comm and pointed to the PricewaterhouseCoopers report, which showed the need for more staff.
"It confirmed what we knew, but at a pace we didn't expect," he said.
"To meet current targets, the report called for the immediate addition of 125 full-time operators to meet the emergency and non-emergency demands placed on our organization."
In an email, Grant said shared E-Comm service made sense, but was so understaffed that 911 operators routinely work shifts without breaks "and even monitor their water usage. to avoid going to the bathroom so they can take just one more call."
He applauded the council for this year's increase in the E-Comm budget, but said the service was struggling and needed to be "right-sized".
"These are the same difficulties Vancouver would face if it operated the service alone, but then the costs would be borne by Vancouver," said Grant, a trained dispatcher for Vancouver and other fire departments.
"It will take a concerted effort to ensure that E-Comm has enough staff and resources to provide the service the people of British Columbia deserve.
City of Vancouver staff, meanwhile, is expected to present a report to council based on Kirby-Yung's motion by April.
@Howellings